The updated Mercedes-Benz GLC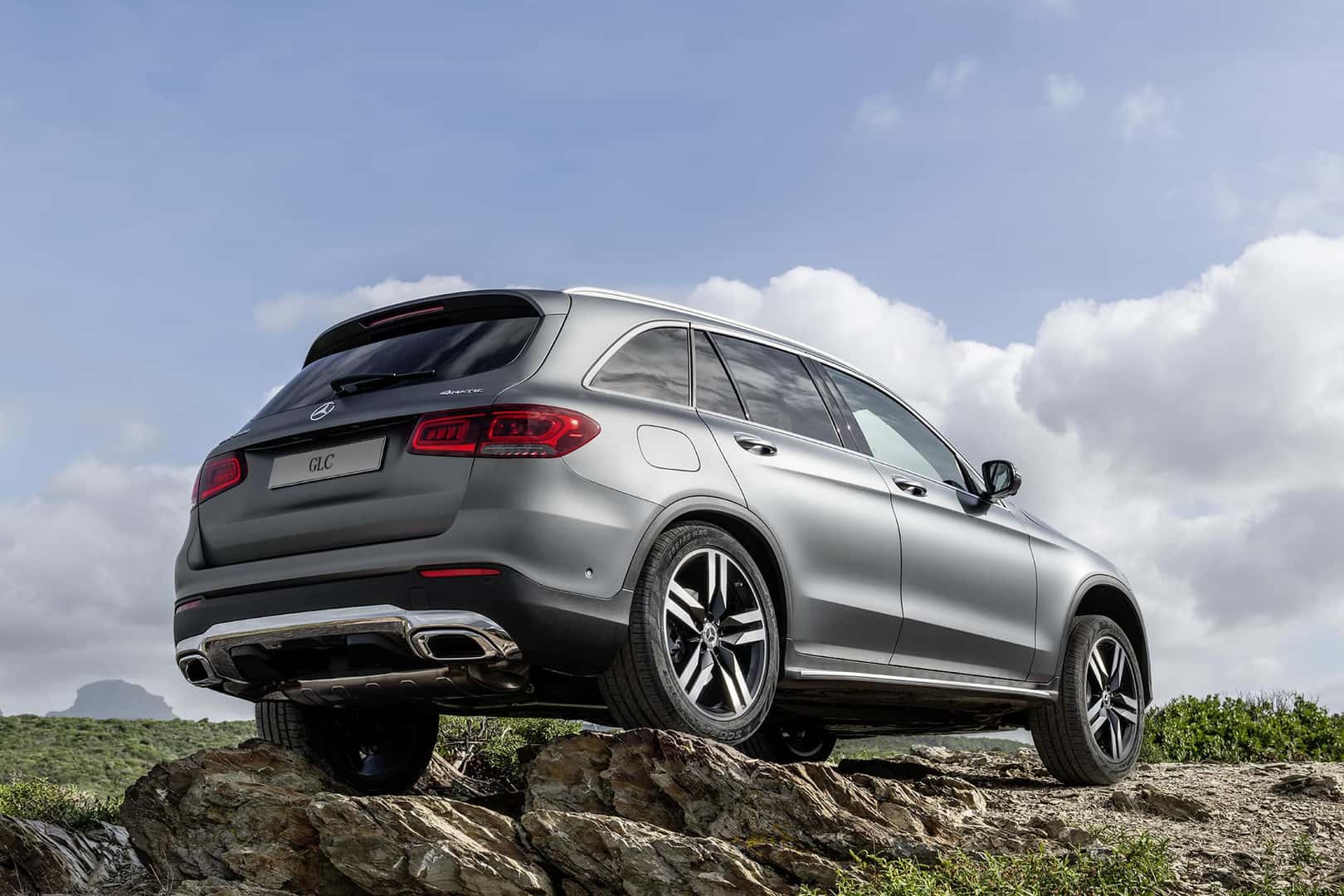 The GLC SUV has been updated for model year 2020. Like its predecessors, it combines outstanding on and off-road driving characteristics with spaciousness, practicality and comfort. In addition, the model year 2020 GLC features pioneering technologies, distinctive design, advanced connectivity and state-of-the-art infotainment. The GLC demonstrates how hallmark brand safety and intelligent adaptability can be combined, resulting in an SUV that sets new standards both on and off the road.
With its distinctive appearance, a new operating concept, innovative driving assistance systems and a new range of engines, the GLC offers the best of Mercedes-Benz. The exterior is sporty with muscular, sculpted surfaces and distinctive details such as chrome elements and a heavily contoured radiator grille. The interior combines luxury and ergonomics with uncompromising attention to detail and a larger touchscreen multimedia display. The updated GLC also features the latest generation of Mercedes-Benz User Experience (MBUX) multimedia system with intuitive and versatile operating options, such as touch and voice-control systems. With an expanded suite of driving assistance systems, the model year 2020 GLC offers safety features such as exit warning function and Active Lane Change Assist. The model year 2020 GLC arrives to the Canadian market in mid-2019. It will be equipped with a new engine that features more power and greater efficiency.
Key updates to the GLC for model year 2020
Mercedes-Benz User Experience (MBUX) – Innovative telematics: With a combination of touchscreen multimedia displays, augmented reality navigation, intelligent voice control, and advanced connectivity, the GLC has been updated with the latest Mercedes-Benz technological standards.
Drive System: The GLC will be equipped with the next generation of four-cylinder engines with increased output and greater efficiency.
Advanced assistance systems: Active Distance Assist DISTRONIC and Active Steering Assist provide even more support to help drivers keep a safe distance from surrounding vehicles.
Exterior Design: Distinctive appearance
The exterior design of the GLC embodies modernity, strength and versatility. Inspired by the philosophy of 'sensual purity' the GLC demonstrates a careful interplay between aesthetics, agility and intelligence. The appearance is sportier overall, with chrome elements that run from the front to the rear of the vehicle as standard. The distinctive lines and strong sculpted surfaces give the vehicle its off-road character and the aggressive front end makes a dominant first impression. Other design highlights include standard fit LED High Performance Head Lights with torch-like design daytime running lights, as well as a heavily contoured radiator grille with double louvres and diamond lattice. The vehicle is now available in graphite grey paint and there are five new wheel designs with diameters ranging from 19 to 20 inches.
The optional Sport Package further enhances the dynamic appearance of the GLC with a chromed diamond grille, a front apron with AMG-specific design, and angular exhaust tips integrated into the bumper.
In the updated GLC, the standard LED High-Performance headlamps are smaller and more raked than previous generations with significantly modified contours. The torch shape of the daytime running lights are a design feature that give the GLC its distinctive Mercedes-Benz light signature. A full-LED headlamp with MULTIBEAM technology is available as an option.
Interior design: Intelligence meets ergonomics
The interior of the GLC is characterized by refined materials, precision workmanship and flowing shapes. The centre console features an elegant trim component, available in black piano lacquer finish and two new wood surface finishes: open pore ash wood or walnut.
The multifunction steering wheel is now available in two versions, and has been completely updated for model year 2020 to be sportier than ever with a distinctive spoke design. The updated steering wheel also features Touch Control buttons that enable the driver can control the instrument cluster and multimedia systems without their hands off the wheel.
Users can operate telematics functions through the multifunction touchpad on the centre console. Controlling functions this way is an alternative to voice control. It allows users to input letters, numbers, or special characters manually. The touchpad surface in the centre console provides both haptic and acoustic feedback.
MBUX: Intuitive operation
The updated GLC features Mercedes-Benz User Experience (MBUX). Characterized by intuitive logic and a wide-range of operating options, MBUX allows for drivers to seamlessly interact with their vehicles in a variety of ways.
With MBUX, drivers can interact with their vehicle the following ways:
Touch Control on the multimedia display
Touch Control Buttons on the multifunction steering wheel
The multifunction touchpad on the centre console
Voice control (either by pressing the talk button on the steering wheel or by saying the "Hey Mercedes" prompt)
Information is displayed for the driver on two high-resolution displays. The free-standing multimedia display in the centre is available in two sizes: Seven inches with a resolution of 960 x 540 pixels and 10.25 inches with a resolution of 1920 x 720 pixels. A larger 12.3 inch instrument cluster is available as an option. On these screens, the driver can choose from three designs: "Classic", "Sport" and "Progressive".
Another highlight of MBUX is Augmented Reality navigation. With this optional feature, navigation information is superimposed onto video taken from the front.  This navigation feature helps the driver understand exactly where to turn, or where a specific address is located.
MBUX also features natural voice control that makes vehicle operation even more convenient and intuitive. Through voice command, the driver can prompt the system to read out text messages, operate the audio systems or access vehicle functions such as climate control system. With natural voice control, the driver does not need to memorize specific commands to take advantage of these functions and can use natural speech to direct the vehicle instead.
The new range of engines: Powerful efficiency
The updated GLC comes equipped with the next generation of four-cylinder engines from Mercedes-Benz. This 2.0 litre inline-4 cylinder turbocharged engine produces 255 hp and 273 lb-ft of torque — an increase of 14 hp over the previously model. The GLC is also equipped with a 9G TRONIC 9-speed automatic transmission that contributes to a dynamic driving experience.
The new engine reduces CO2 emissions and is a significant advancement with regard to lowering consumption. The main technological components of the engine are CAMTRONIC variable valve control, which heats up the exhaust system without increasing consumption, and the twin scroll turbocharger.
Driving assistance systems: Safe support
The updated GLC features an even greater level of driver safety and comfort systems.
For example, the Intelligent Drive Package in the GLC now includes:
Active Distance Assist DISTRONIC
Active Steering Assist
Route-based speed adjustment ahead of bends, roundabouts, toll booths, T-junctions as well as before making a turn/exiting expressways or approaching traffic congestion
Evasive Steering Assist
Active Lane Keeping Assist
Active Blind Spot Assist
Active Brake Assist with turn-off and cross-traffic function
PRE-SAFE® PLUS
When Active Distance Assist DISTRONIC with route-based speed adaptation is activated, the new GLC is able to recognize and respond to traffic jams or slow-moving traffic with the help of information from LiveTraffic, even before the driver becomes aware of this traffic obstruction. This is complemented by an improved Active Lane Keeping Assist as well as the additional functions of Active Emergency Stop Assist.
An exit warning function reduces the risk of failing to see an approaching vehicle or a cyclist when opening the door. This function is only active when the vehicle is stopped. When the driver or a passenger opens the door and a vehicle is approaching, the system emits a visual and audible warning. The function is active for up to three minutes after switching off the engine.
Active Parking Assist is available as an option on the updated GLC. At speeds below 35 km/hour, when the button for Active Parking Assist is pushed, the system will display all identified parking spaces in the immediate surroundings on the multimedia display. Drivers can then select the parking manoeuvre via the touchpad, the touchscreen of the multimedia system, or the right-hand control panel of the multifunction steering wheel. The system will then provide assistance pulling into and reversing in and out of a parallel or perpendicular parking space.
In combination with Blind Spot Assist, Active Parking Assist can warn the driver of cross-traffic when reversing out of perpendicular parking spaces, and also initiate automatic braking if necessary. Active Parking Assist gives a visual and acoustic warning of obstacles detected by means of six ultrasound sensors in each bumper. These can be in front of, to the side, or behind the vehicle, and are detected at speeds up to approximately 10 km/h.
Car-to-X communication supports the driver by providing up-to-date information and warnings of hazardous situations on the road.
Strength. Driven by dedication
The GLC is a key part of Mercedes-Benz's success in the SUV segment where Mercedes-Benz currently offers seven models:  GLA, GLC, GLC Coupe, GLE, GLE Coupe, GLS, and G-Class.
To date, more than five million Mercedes-Benz SUVs have been delivered to customers worldwide.
For more information, please contact:
Sinead Brown              416-847-7588             sinead.brown@mercedes-benz.ca
Lucas Dias                   416-847-7449             lucas.e.dias@mercedes-benz.ca
Further information from Mercedes-Benz is available at media.mercedes-benz.ca.